Archive for the 'Email Solution' Category
Internet Fax Service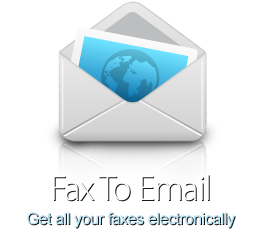 Fax to Email saves me time, money and paper, and I love the freedom to get faxes from home, the office or on the road. You can get this for only $6.95/month and receive Unlimited Faxes to a local number with No Commitment, and get Immediate Activation at Carolina Digital Fax
Quickly check your
faxes from any computer
where you have access to a web browser. Your incoming fax is delivered as email attachment. Easily
Send faxes
via the website. Our service offers FREE Secure Online Storage for 30 days with long-term Secure storage available for 6 months, 1 year or 2 years. Your files can be accessed via a secure web based interface or via FTP. With a Smart phone use your wireless PDA or cell phone to access your faxes. Faxes arrive in your private email inbox. We force SSL for your security.
Our systems include multiple geographic dispersed data centers, hardware/software redundancy, and carrier diversity, which provides fault tolerance and automated fail-over in the event of localized issues. We offer local numbers in most every area code in the United States. We may or may not have local numbers in your city depending on where you live. As we expand into other markets and cities, additional area codes will be offered and you will receive email notifications of these new area codes. You have the option at any time of switching numbers at no charge. Due to the fact that fax calls average less then one minute in duration, and the cost of long distance is now extremely inexpensive or in most cases is bundled in commercial and residential plans, the majority of customers do not mind having a fax number in another area code. In some cases, businesses see it as a way to increase their national visibility.
Many people ask is our service compliant with HIPAA (Health Insurance Portability and Accountability Act)? HIPAA is a set of rules and regulations in the medical industry to regulate Privacy and Security. It is our understanding that there is no "official HIPAA certification" and that organizations must self-certify their adherence. We do follow strict security policies, procedures and guidelines on all server, network, telecommunications and data storage systems, including but not limited to encryption, to protect the privacy of the data and ultimately your personal privacy.
Your email is your business life-line for communications to your clients
Small, medium and large businesses are keeping closer tabs on expenses today. Unexpected costs wreak havoc on even large budgets. Many enterprises are opting for the convenience and predictability of email hosting for business.
By using Dataglide's Kerio Connect, businesses don't need to concern themselves with periodic maintenance and management tasks. At the same time, they enjoy a hosted Microsoft Exchange type service, eliminating the cost of upfront licensing for the products and hardware upgrades.
One of the major benefits of using Dataglide Kerio Connect is its hosted email and hosted email archiving. Clients can rely on its security advantages for encrypting and digitally signing sensitive internal emails. Companies using this kind of security layering are less exposed to outside hacking and surveillance by competitors.
Hosted email archiving gives companies instant access to past correspondence filed in a logical and easy to use system of folders and synced calendars. Using Dataglide's email hosting for business means office staff and mobile personnel stay in touch and on the same page hour by hour without waiting for an on-site server's nightly updating.
Read the rest of this entry »
Easy Free Mail Calendar Sync Gone in Windows 7
Is mail calendar sync important to you?
Is mail calendar sync important to you? Apparently, Microsoft doesn't think so. It's no longer available as an integrated solution for free with the latest version of the Windows operating system. For some odd reason, the company decided to do away with years of tradition and bundle separate calendar and mail applications — as a download, no less!
That's right; not only is there no mail calendar sync like before, but the alternatives provided aren't even provided "out of the box" — they have to be downloaded first. This is due to Microsoft not wanting to go to court over monopoly accusations anymore. By providing just about anything and everything a casual computer user could want out of the box, it had been sued numerous times for stifling competition by the makers of such software as web browsers and, yes, e-mail clients. So with the latest version of Windows available on the market, Redmond's decided to make everyone download such freebies, thus signifying consumer choice as opposed to somehow being forced to use only Microsoft products by virtue of their free inclusion with the operating system.
So, all well and good, but why oh why did it also have to have taken away the intuitive mail calendar sync provided by the integrated solution it used to, well, provide?? What would having calendar and contact functionality together in a free e-mail program have done to its fears over looking like a monopoly? Such features are almost always found together now, and separating the two into two separate programs is indisputably a step back. Or is Microsoft just being snarky with the government and its competitors — at the expense of Windows end-users?
Who knows what they're thinking. Who knows why they stopped including pinball in their free games line-up! It's a silly decision, which is compounded by their silly response that there are separate Windows 7 programs for calendars and contacts!


Hosted email gives your business a much more professional feel, which should give you a leg up with prospective clients, especially in this economic climate! To stay competitive, helpfully sophisticated messaging tools can provide a highly efficient way to not just access communications but also manage contacts and schedule tasks.
Hosted email also has the advantage of allowing you to scale up and down as needed. Pay-as-you-go models minimize your risks while maximizing your benefits! Letting information technology professionals operate your e-mail server saves you time and lets you concentrate on your business. Even if you have your own IT staff on hand, letting someone else do the grunt work frees up your own people for more important matters!
And again, it all just feels so much more professional. Hosted email means that you don't have advertising running along your messages. It means you needn't see any yourself when accessing your e-mail. Such premium services are mostly geared towards small to medium-sized businesses, giving you enterprise-level power at a fraction of the cost of running your own servers like the Big Boys! Instead of fiddling with configurations, you just tell your host how you want things, and because it's professionally hosted you can be sure of expert quality second to none. Why waste time with free webmail and the like? Plans are affordable and the convenience can't be beat.
Again, you also look better, and in business as in much else in life, first impressions are lasting impressions! Have you ever had someone hand you a fancy business card with a free webmail account listed? How did that make you feel about the person or his or her company? Not very positively, in all likelihood. Well, spare yourself some of that uncertainty in the minds of others, especially potential clients!

With the electronic mail serving as one of the primary modes of communication, a professional business needs to avail of an email host for them to be taken seriously. There is nothing wrong with using Gmail, Yahoo mail or Hotmail but in a business where the competition is bottleneck, using these free services risks your messages to being trashed as spam by potential customers.
There is a need then for an email host that offers the services you need. There are numerous email hosts out there and if you are not careful, you may end up paying for more than what you need or paying less for services that are incomplete. In this regard, the two names that pop most frequently are Kerio and Microsoft. Just considering the two, Kerio hosted email versus Microsoft's offering, one can get ideas not much on which of them is better but more on which of them better suits your business.
Kerio email host is often referred to as the Microsoft alternative because the basics being offered by the later are already available in the former. Just for a quick rundown, both hosts are great with connecting with people anywhere and anytime, synchronizing data with wireless gadgets, providing email securities, automatically backups your files and can save past messages in archives. Of course, both offer the regular online calendars and address books plus the beauty of having your own domain name and the company to help you when your email account encounters problems.
Down with the two being similar in services, the financial aspect should be considered. Microsoft is undeniably more expensive but they defend by saying that more pluggins are compatible with them and that their security system is more sophisticated as compared to the other.
So who wins in the fight of Kerio hosted email versus Microsoft hosted email depends on your service needs and probably your budget.